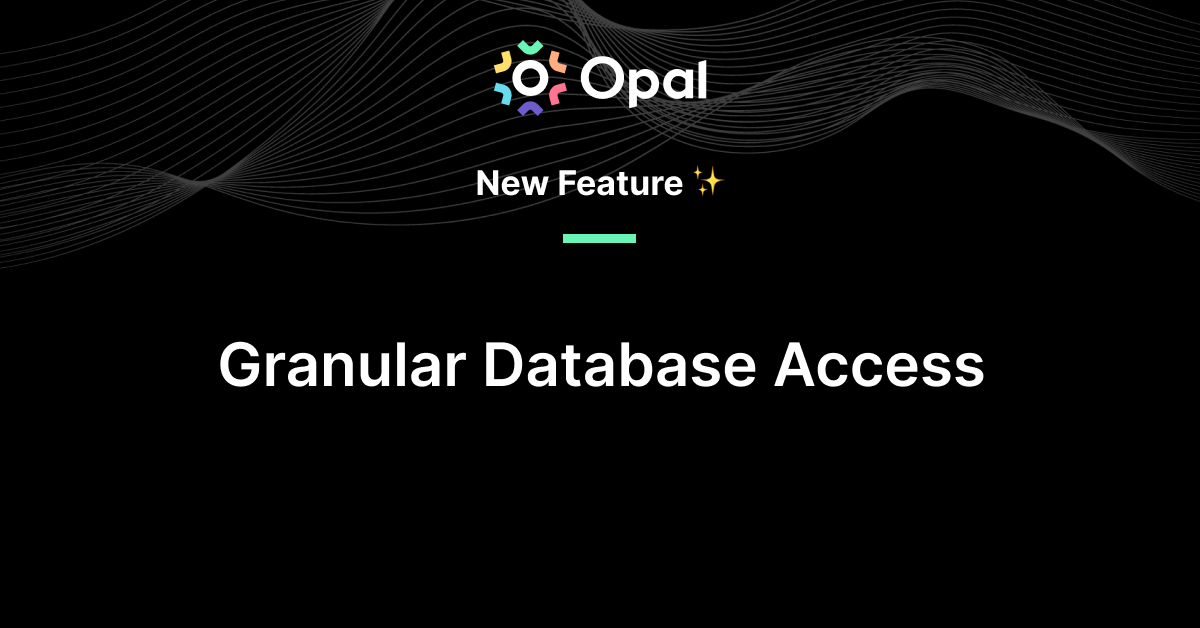 DATE:

AUTHOR:

The Opal Team
Engineering
Compliance
Security
DATE:
AUTHOR: The Opal Team
Opal provides granular and short-lived access to sensitive and mission-critical infrastructure. We have recently gotten requests from our customers to enable more granular controls for databases and sensitive internal admin tools.
Ask and you shall receive! Opal now supports table and even column/row-level access to databases and a custom permissions API to integrate into internal systems! 🔥
Here are some important use-cases we aimed to really tackle with this launch:
Request access to customer data/internal tools for short amounts of time
For security teams, you can now grant access to customer data in a highly specific and auditable manner. Instead of granting customer impersonation ability to all customer-facing teams indefinitely, you can provide granular and short-lived access to the right person at the right time.
Limit access to sensitive customer data in databases
We've seen our customers go to great lengths to protect sensitive data. Some of our customers have even purchased new data warehousing solutions for specific teams! With Opal, our customers can now safely grant developers access to databases without permission to see customer data. Finally-- compliance without losing productivity! This feature was designed to allow our customers to be more easily comply with important regulations, such as

Sarbanes-Oxley (SOX).
Secure personally identifiable information (PII) with column-level access
Many of our customers work with external contractors or consultants. As a result, they often need to create new table structures or new databases to scrub out sensitive customer information. While this increases compliance posture, it also increases management overhead. With Opal, you can limit access to specific columns (and tables) for just the relevant team or tie this access to a support ticket! Access can automatically be revoked when the ticket is completed